A REVOLUTION IN CERAMIC ARCHITECTURE
Flexbrick Award winning next generation sunscreen has already changed the paradigm of installing facades around the world. Plied in lengths long as 20m and taken directly from the pallet to their final position in the building in a flash, the patented ceramic fabrics are safely and easily hanged  like a curtain made of bricks with a customizable pattern that allows fast and reliable prefabricated construction while adding special features and beauty to the building envelope. Flexbrick tissues are manufactured from recycled and recyclable materials and installed with mechanical dry fixations allowing full recuperation. They are shipped on a compact way thus producing a nearly zero carbon print, while our terracotta bricks are manufactured 100% using biogas from our plant near Barcelona's landfill.
The more than 5-year long research project, which has resulted in the new Flexbrick constructive system, is based on an idea from the architect and director of the Barcelona Ceramics Chair at the Universitat Internacional de Catalunya, PhD. Vicente Sarrablo, developed jointly by two benchmark companies in the Spanish construction industry: Piera Ecocerámica and Cerámica Malpesa.
This new ceramic textile was devised following the concept of the textile architecture, and a flexible and adaptable material has been developed combining two long-life components: steel and ceramic.
As it became an industrialized system, Flexbrick speeds up the construction process significantly. Furthermore, it is easy to personalize its design and structure, adjusting them to the characteristics and requirements of each project.
Since Vicente Sarrablo presented the idea to both Piera and Malpesa, a joint venture process raised in order to realize the huge potential of this new system, which could suppose a revolutionary change in the perception of architecture with ceramic materials.
The ceramic textile was introduced in the market in 2009. Architects' community welcomed the multiple configurations of the fabric; its large variety of applications and its aesthetical finishes. These arguments help to explain why these last years Flexbrick has developed projects for remarkable architectural studios from different countries around the world.
Ceramic textiles open a new chapter in construction focused on the industrialization with ceramic materials. The original impulse of Flexbrick's innovation project continues nowadays since several new researches are in progress.
New ad-hoc Flexbrick piece specially for this ventilated roof of Campclar Sports Pavilion (Tarragona)
Unique Flexbrick® roof on the Campclar Sports Pavilion in Tarragona
For this facility, which was inaugurated on the occasion of the 18th Mediterranean Games, Flexbrick® made a new ad-hoc piece that is especially adapted to a ventilated roof, resulting in significant energy savings. The Barcelo-Balanzo BD Architectos studio is responsible for this project.
The Niel Garden created by the firm Michèle & Miquel architects is the first drenant pavement of large surface installed outside Spain, in Toulouse (France) using the ceramic textile Flexbrick®, and received the FAD International at the awards ceremony of the 59th FAD Architecture Awards held in Barcelona on 2017.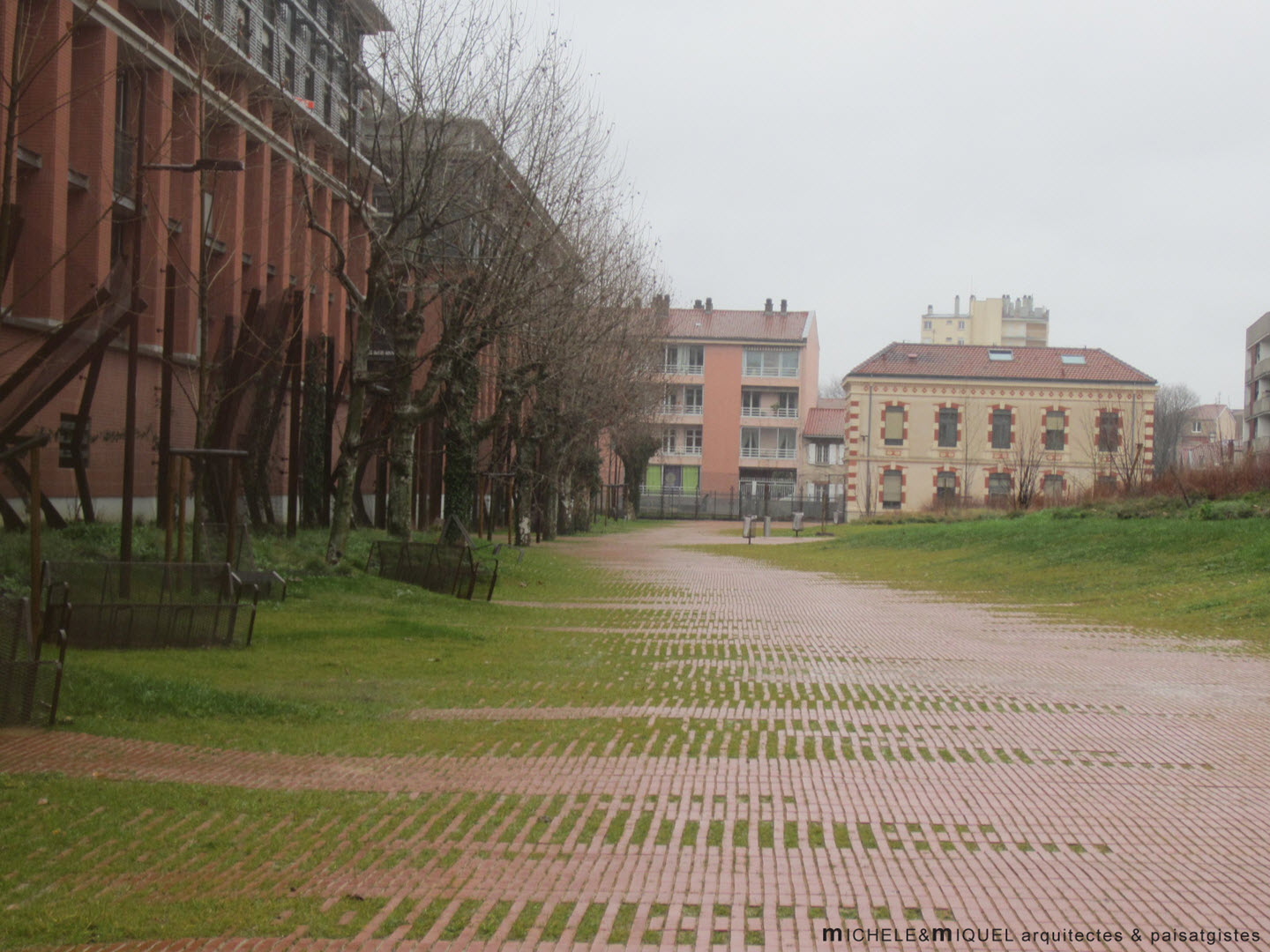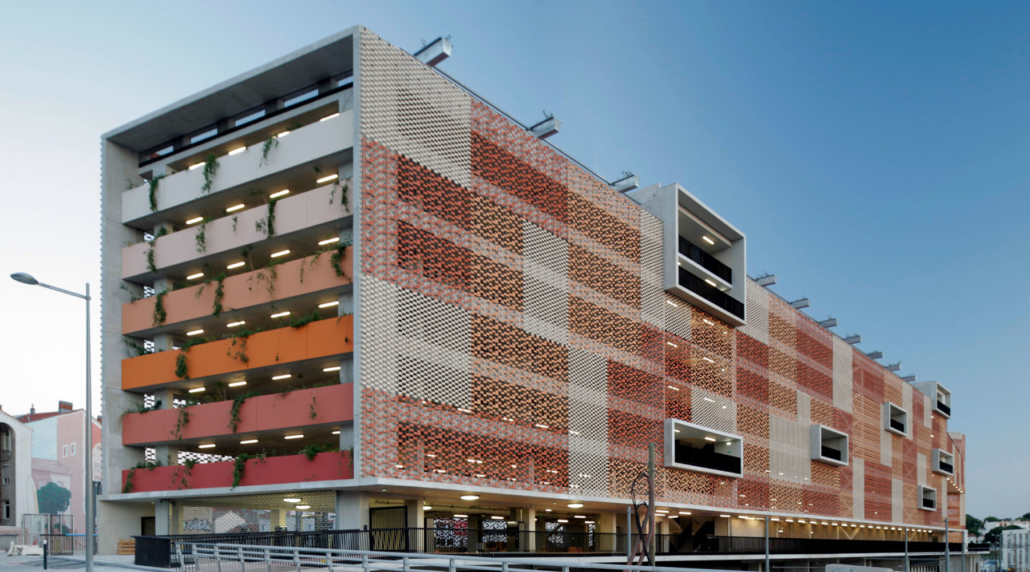 Project Parking
Saint-Roch Montpellier
Project Parking Saint-Roch Montpellier of more than 7.000 m2 of facade with 792 parking spaces. Winner of the German Design Awards 2018
First big project in France. The architects' goal was to merge the parking with the historic center. Thanks to the Flexbrick ceramic mesh worked as an intelligent curtain, the parking is related to the environment. It represents a significant saving in installation time and energy since it does not require forced ventilation.
Deposit Rei Martí. First non ceramic application by Flexbrick, using 'wood'
This underground warehouse was transformed into a cultural space. The main objetive of the refurbishing works was the impermeability and sound reverberation.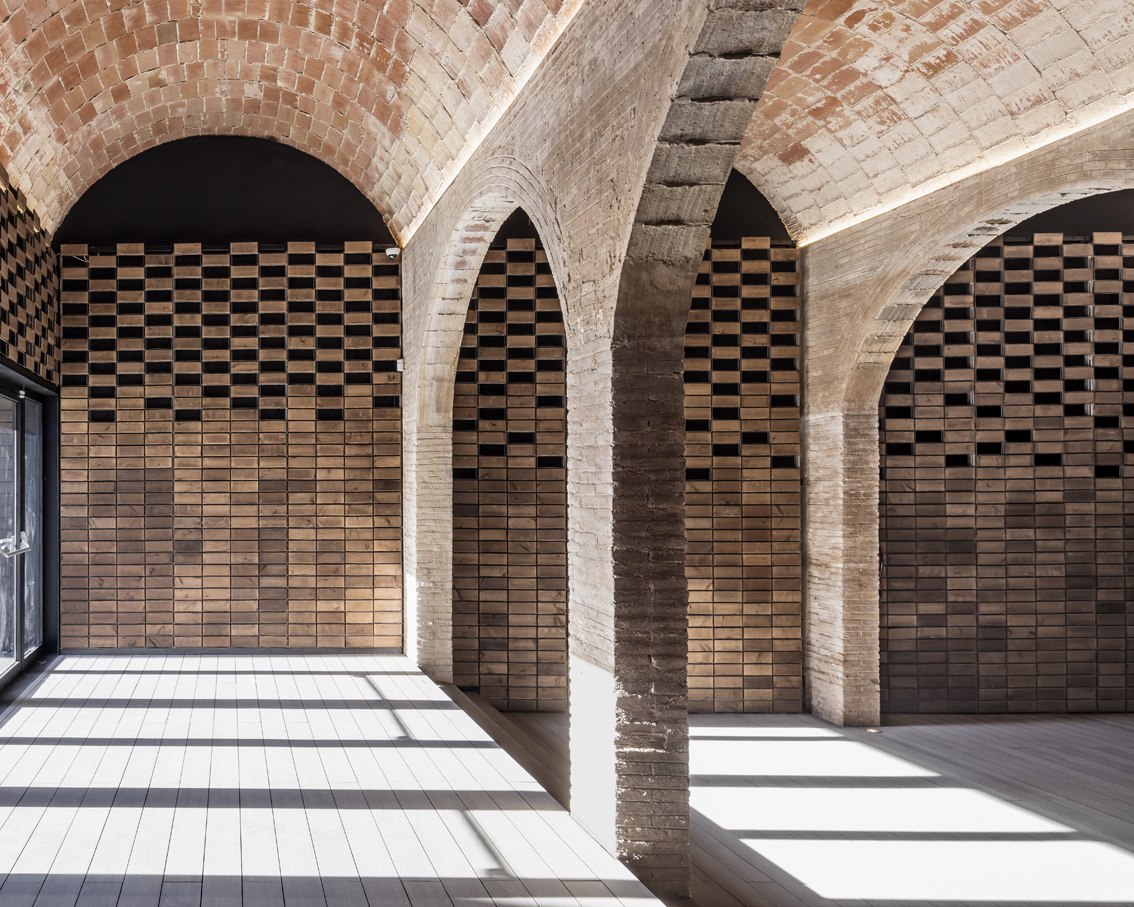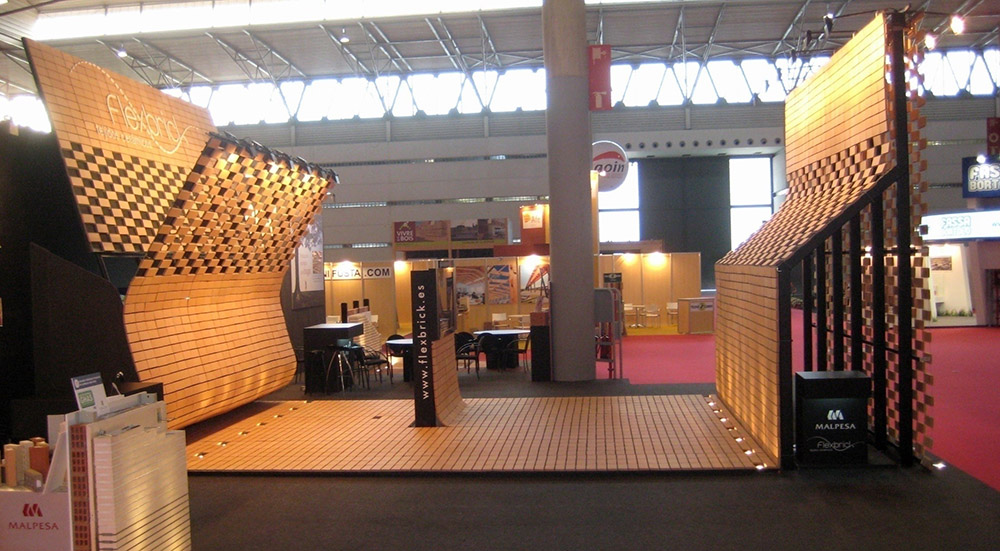 FLEXBRICK LAUNCHED TO MARKET. PRESENTED TO PUBLIC IN CONSTRUMAT
Having finished the research and development of the system and approved all tests and evaluations required ceramic textiles start to be commercialized. The company is presented in Construmat exhibition and the system achieves the recognition of the Fair Awards.
Piera and Malpesa create Flexbrick
In December 2009 Flexbrick is created, in which Piera Ecocerámica and Cerámica Malpesa have a 50% stake. The investment earmarked for the research and development of the new system was 2.5 million Euros.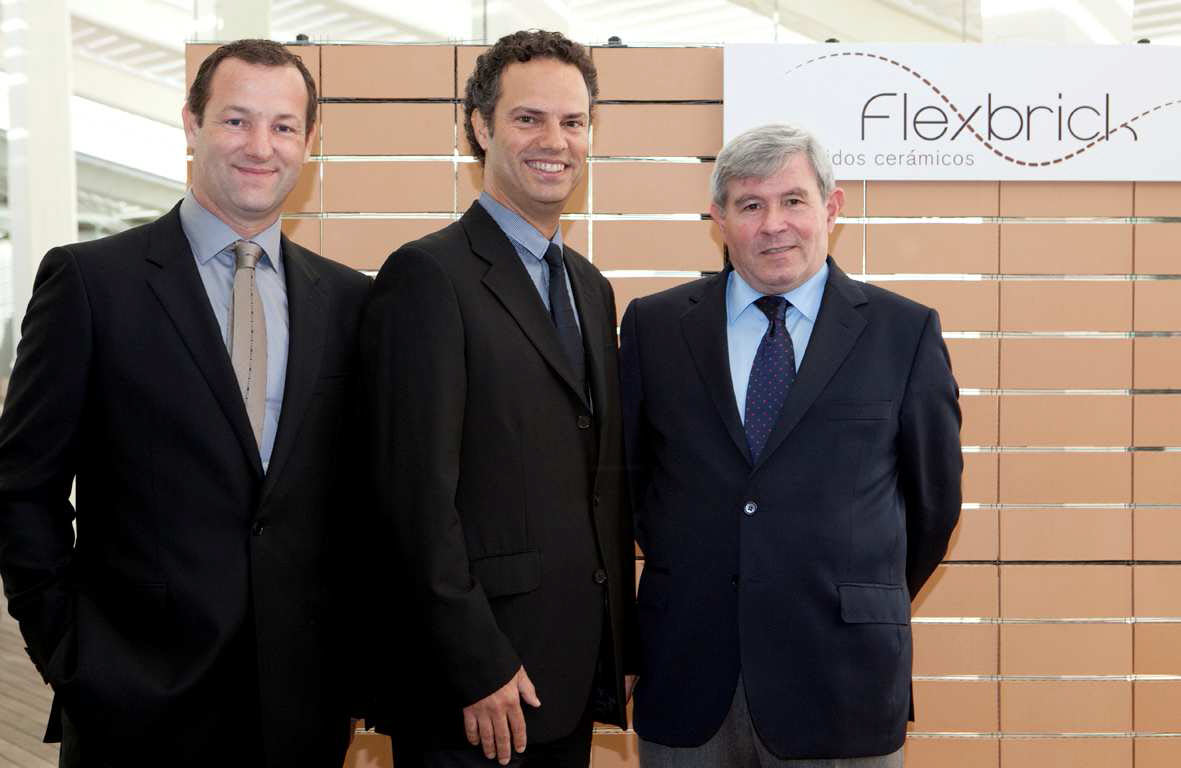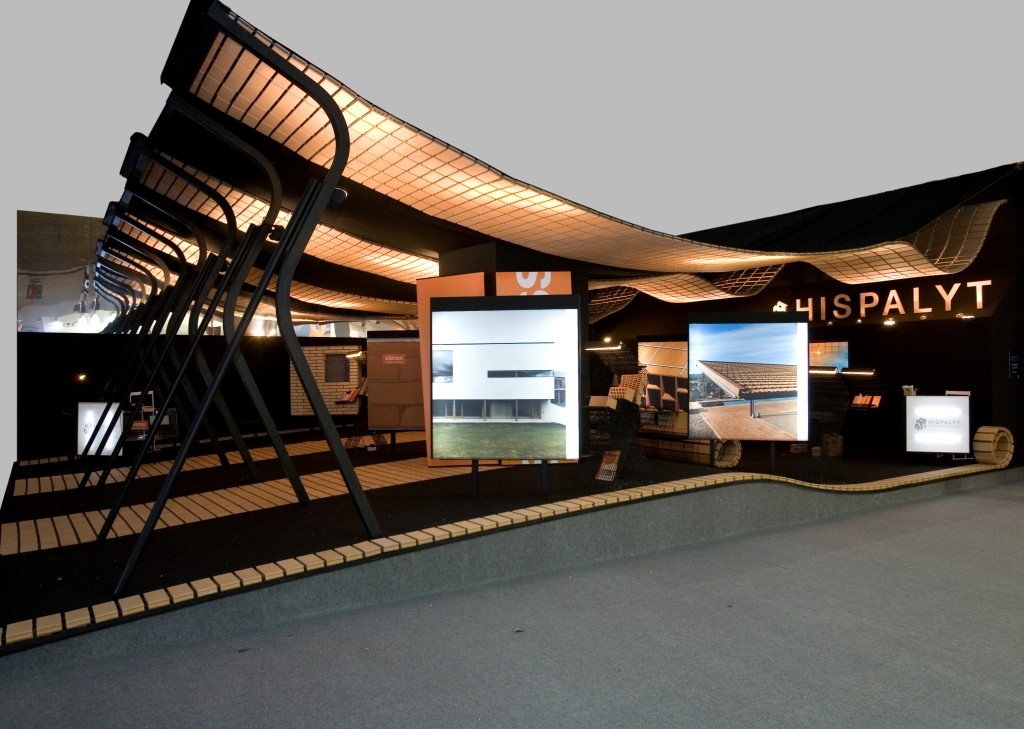 NEW FLEXBRICK APPLICATIONS LAUNCHED TO CONSTRUMAT EXHIBITION
First time that Flexbrick is used with dry-assembly industrialised sheets (without concrete) with these other applications (pavements, facades, ceilings…).
This fact constitutes a turning point that opens full range of new possibilities: from this moment Flexbrick takes more commercial applications with a huge market, more than the simple ceramic sheet with concrete.
Our stand was the perfect prototype to show this to our visitants
Designed by Vicente Sarrablo and Jaume Colom, this house takes advantage of the conclusions obtained from the first stand of Hispalyt. This is the first prototype of a house that uses different industrialized applications of ceramic textiles with a unique type of bricks: structured vaults, curved roof, drainable pavements, prefabricated panels in the fence and in the gabions.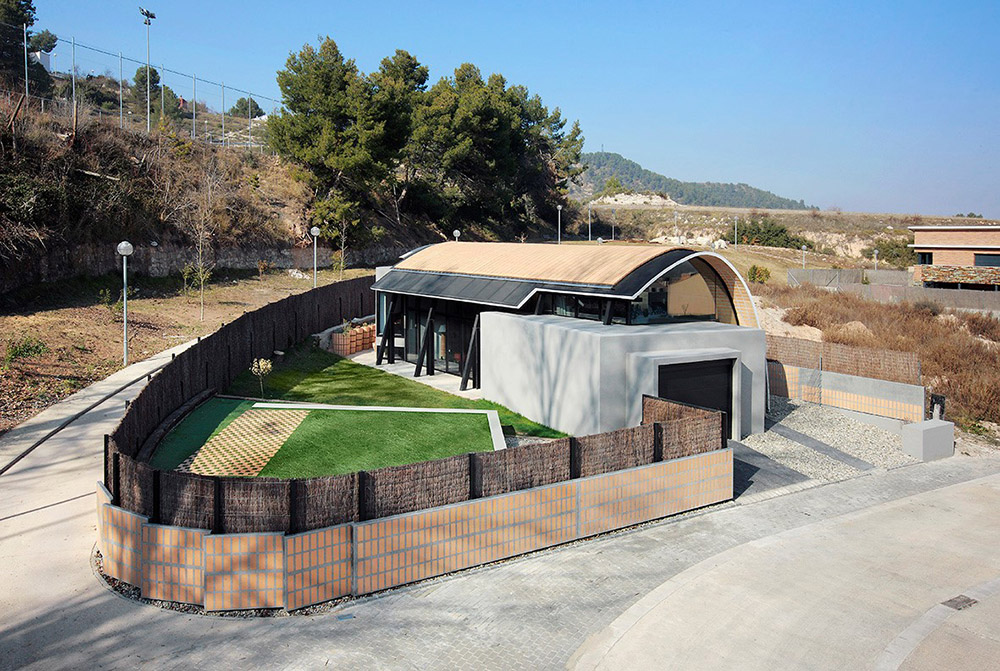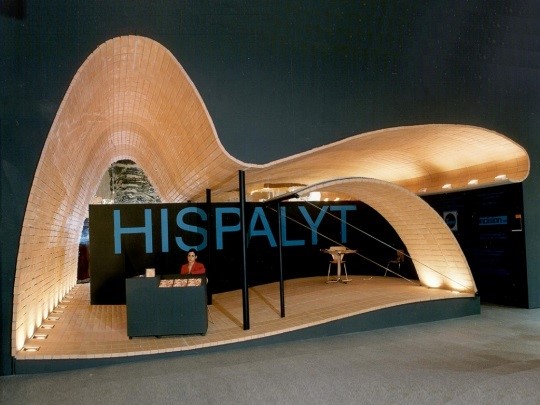 OUR STAND IN CONSTRUMAT, FIRST PROTOTYPE OF VAULT AT FULL SCALE
(Spanish Association of Brick and Clay Tile Manufacturers)
Simultaneously to the execution of the three development projects, Sarrablo takes the opportunity to design for the first time a prototype stand based in reinforced ceramic sheets that shows the wide range of advantages of the industrialization system. Both specialized media and mass media spread broadly information about this innovative solution.
Patent, doctoral thesis and competitive research projects
From 1998 to 2002 Vicente Sarrablo develops his doctoral thesis on industrial systems to run reinforced ceramic vaults in the Universitat Politècnica de Catalunya, rated Excellent Cum Laude. In 2003 it is requested the first patent of the system for reinforced ceramic vaults by industrialized sheets. Moreover, European and Spanish public funds are achieved to realise three competitive projects in order to develop the system.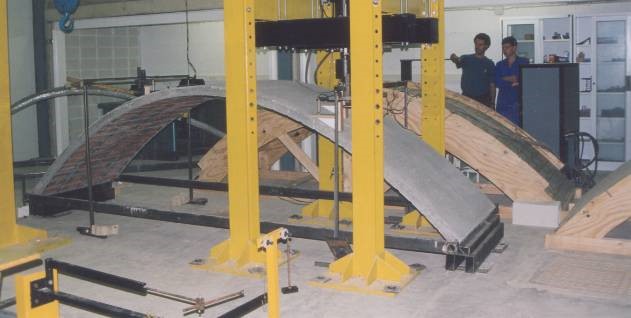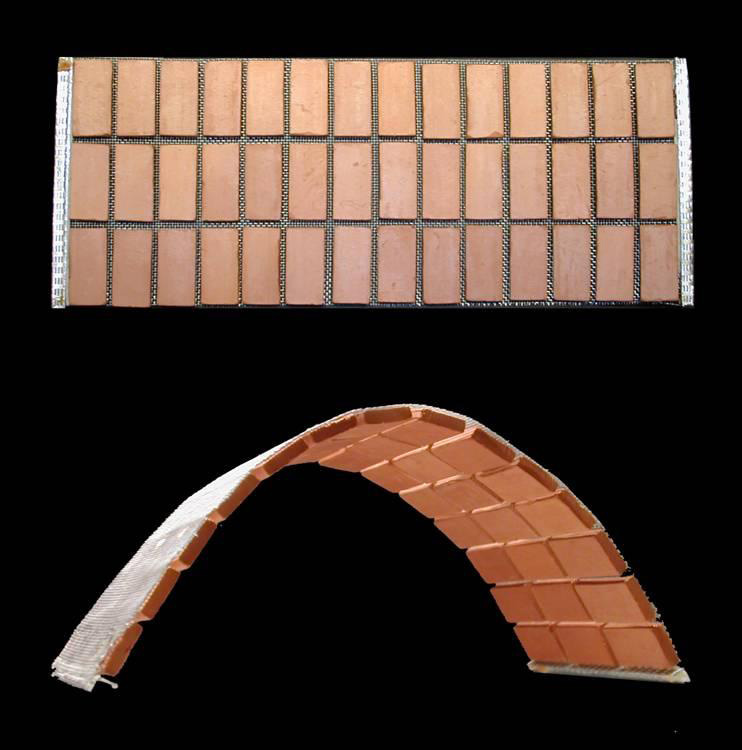 Vicente Sarrablo meets the reputed engineer Eladio Dieste in Uruguay
During the conversations they had, Dieste shared with Sarrablo his ideas about reinforced ceramic sheets that he developed during 1950's. After these meetings, Sarrablo conceived a new concept to industrialize this system.