UNA REVOLUCIÓN EN LA ARQUITECTURA CERÁMICA
Flexbrick ya ha cambiado el paradigma en la instalación de fachadas a nivel mundial. Plegadas en longitudes de hasta 20 m tomados directamente desde el palé hasta su posición final en el edificio en un instante, los tejidos cerámicos patentados se cuelgan de forma fácil y segura a modo de cortina de ladrillos con un diseño personalizable que permite una construcción prefabricada rápida y segura a la vez que aporta unos rasgos y una belleza especiales al entorno del edificio. Los tejidos Flexbrick se fabrican a partir de materiales reciclados y reciclables y se instalan con fijaciones secas mecánicas permitiendo una recuperación completa. Se envían de forma compacta, produciendo así una huella de carbono casi nula, mientras que nuestros ladrillos de terracota se fabrican 100% usando biogás procedente de una planta de tratamiento de residuos cerca de nuestras instalaciones
El proyecto de investigación de más de 5 años, que ha resultado en el nuevo sistema de construcción Flexbrick, se basa en una idea del arquitecto y director de la Presidencia Cerámica de Barcelona en la Universitat Internacional de Catalunya, el Dr. Vicente Sarrablo, desarrollada conjuntamente por dos empresas referentes en la industria de la construcción en España: Piera Ecocerámica y Cerámica Malpesa.
Este nuevo tejido cerámico se creó siguiendo el concepto de la arquitectura textil, y se ha desarrollado un material flexible y adaptable combinando dos componentes de larga duración: acero inoxidable y cerámica.

A medida que se convierte en un sistema industrializado, Flexbrick acelera el proceso de construcción significativamente. Además, es fácil personalizar su diseño y su estructura, ajustándolos a las características y a los requisitos de cada proyecto.
Desde que Vicente Sarrablo presentó la idea a Piera y Malpesa, se inició un proceso de empresa conjunta para plasmar el enorme potencial de este nuevo sistema, que podría suponer un cambio revolucionario en la percepción de la arquitectura con los materiales cerámicos.
El tejido cerámico se introdujo en el mercado en 2009. La comunidad de arquitectos acogió sus múltiples configuraciones, su gran variedad de aplicaciones y sus acabados estéticos. Estos argumentos ayudan a explicar por qué durante estos últimos años Flexbrick ha creado proyectos para importantes estudios de arquitectura de diferentes países a nivel mundial.
Los tejidos cerámicos abren un nuevo capítulo en la construcción centrado en la industrialización con materiales cerámicos. El impulso original del proyecto innovador de Flexbrick continúa actualmente puesto que se están llevando a cabo nuevas investigaciones.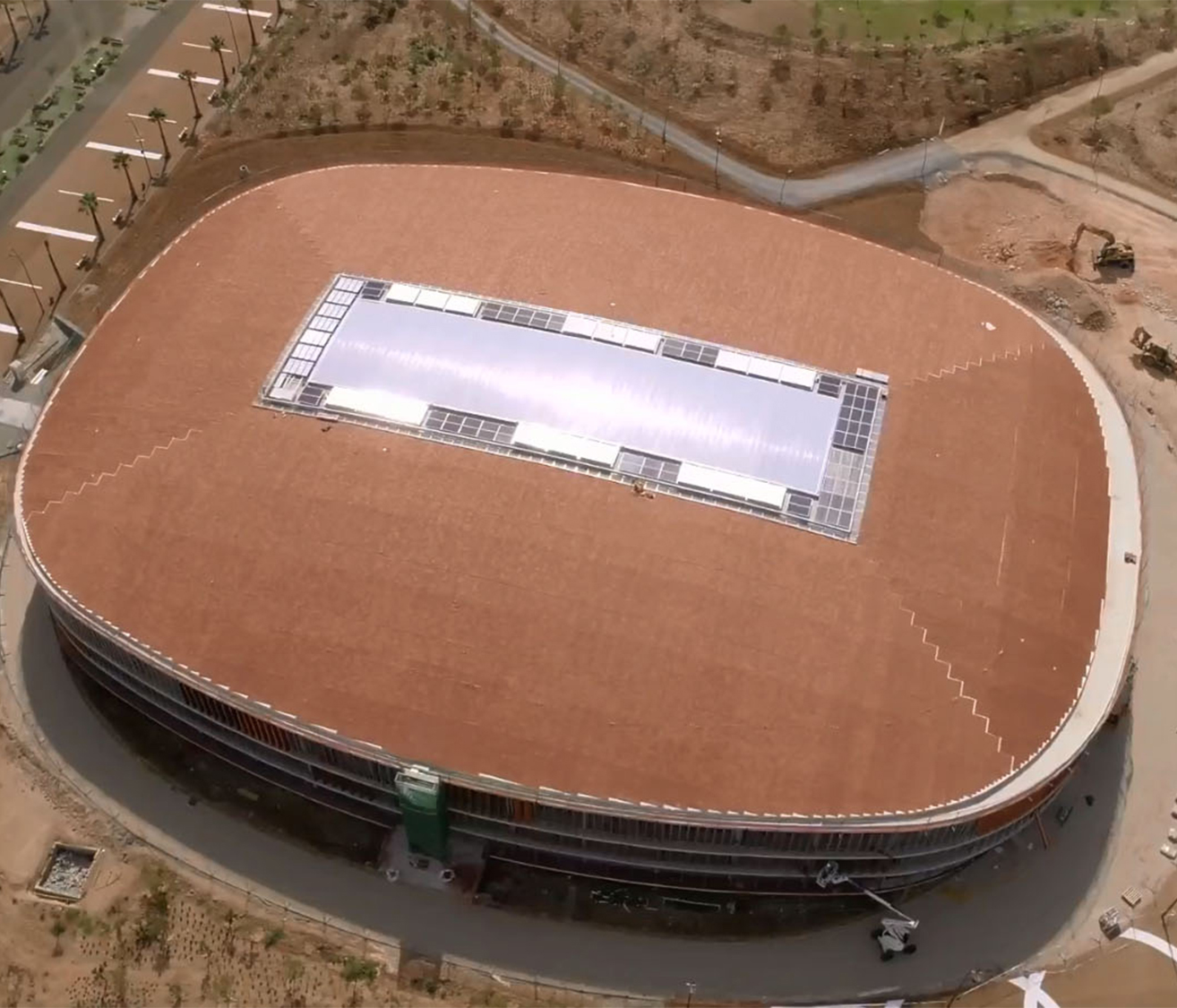 Pieza Flexbrick nueva y ad hoc especialmente para esta cubierta ventilada del Polideportivo de Campclar (Tarragona)
Unique Flexbrick® roof on the Campclar Sports Pavilion in Tarragona
For this facility, which was inaugurated on the occasion of the 18th Mediterranean Games, Flexbrick® made a new ad-hoc piece that is especially adapted to a ventilated roof, resulting in significant energy savings. The Barcelo-Balanzo BD Architectos studio is responsible for this project.
The Niel Garden created by the firm Michèle & Miquel architects is the first drenant pavement of large surface installed outside Spain, in Toulouse (France) using the ceramic textile Flexbrick®, and received the FAD International at the awards ceremony of the 59th FAD Architecture Awards held in Barcelona on 2017.
Proyecto de Parking Saint-Roch Montpellier
Project Parking Saint-Roch Montpellier of more than 7.000 m2 of facade with 792 parking spaces. Winner of the German Design Awards 2018
First big project in France. The architects' goal was to merge the parking with the historic center. Thanks to the Flexbrick ceramic mesh worked as an intelligent curtain, the parking is related to the environment. It represents a significant saving in installation time and energy since it does not require forced ventilation.
Depósito Rei Martí. Primera aplicación no cerámica de Flexbrick, usando «madera»
This underground warehouse was transformed into a cultural space. The main objetive of the refurbishing works was the impermeability and sound reverberation.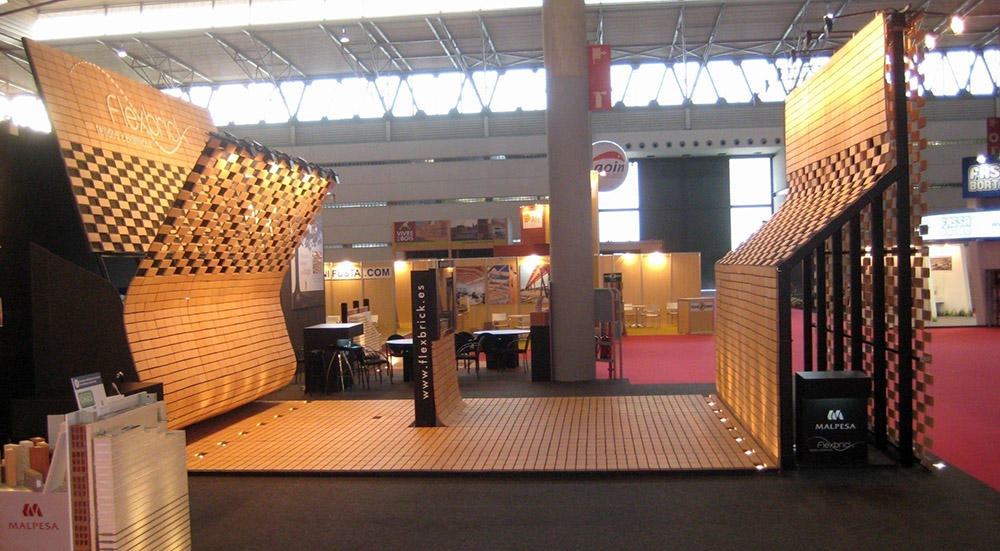 FLEXBRICK SE LANZA AL MERCADO. SE PRESENTA EN PÚBLICO EN CONSTRUMAT
Having finished the research and development of the system and approved all tests and evaluations required ceramic textiles start to be commercialized. The company is presented in Construmat exhibition and the system achieves the recognition of the Fair Awards.
Piera y Malpesa crean Flexbrick
In December 2009 Flexbrick is created, in which Piera Ecocerámica and Cerámica Malpesa have a 50% stake. The investment earmarked for the research and development of the new system was 2.5 million Euros.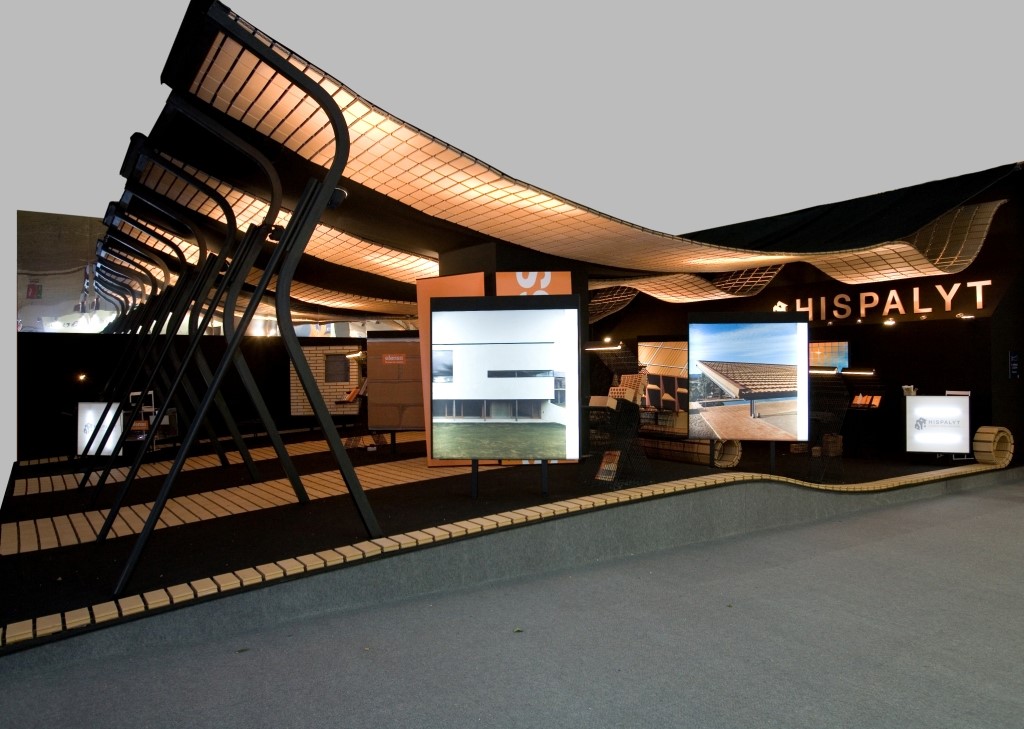 NUEVAS APLICACIONES FLEXBRICK SE LANZAN EN LA EXPOSICIÓN CONSTRUMAT
First time that Flexbrick is used with dry-assembly industrialised sheets (without concrete) with these other applications (pavements, facades, ceilings…).
This fact constitutes a turning point that opens full range of new possibilities: from this moment Flexbrick takes more commercial applications with a huge market, more than the simple ceramic sheet with concrete.
Our stand was the perfect prototype to show this to our visitants
Construcción de la Casa Mingo
Designed by Vicente Sarrablo and Jaume Colom, this house takes advantage of the conclusions obtained from the first stand of Hispalyt. This is the first prototype of a house that uses different industrialized applications of ceramic textiles with a unique type of bricks: structured vaults, curved roof, drainable pavements, prefabricated panels in the fence and in the gabions.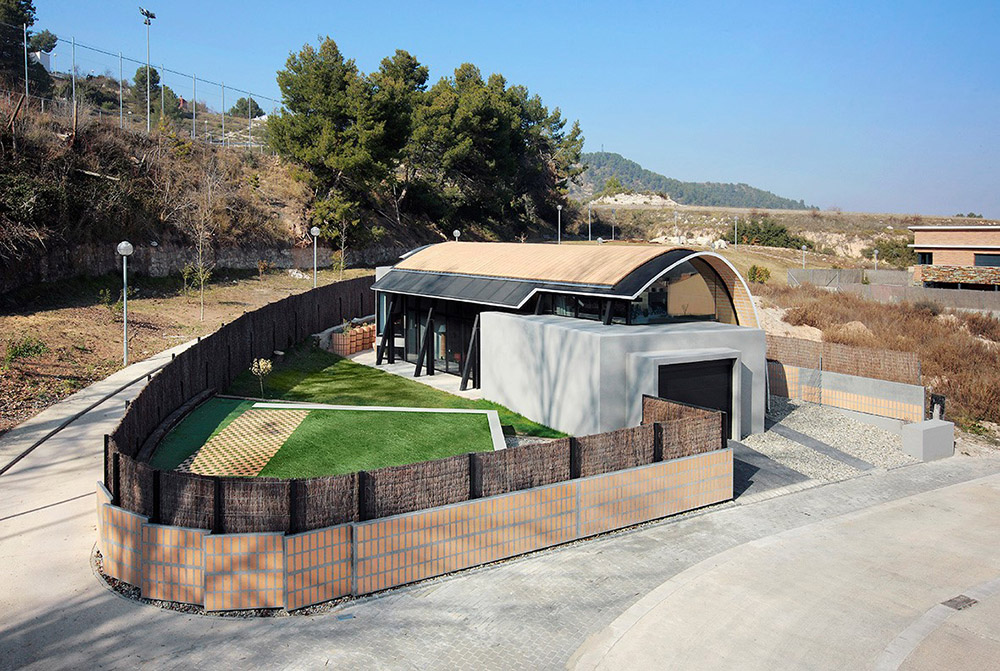 NUESTRO STAND EN CONSTRUMAT, PRIMER PROTOTIPO DE BÓVEDA A ESCALA COMPLETA
(Asociación Española de Fabricantes de Ladrillo y Baldosas de Arcilla)
Simultaneously to the execution of the three development projects, Sarrablo takes the opportunity to design for the first time a prototype stand based in reinforced ceramic sheets that shows the wide range of advantages of the industrialization system. Both specialized media and mass media spread broadly information about this innovative solution.
Patente, tesis doctoral y proyectos de investigación competitivos
From 1998 to 2002 Vicente Sarrablo develops his doctoral thesis on industrial systems to run reinforced ceramic vaults in the Universitat Politècnica de Catalunya, rated Excellent Cum Laude. In 2003 it is requested the first patent of the system for reinforced ceramic vaults by industrialized sheets. Moreover, European and Spanish public funds are achieved to realise three competitive projects in order to develop the system.
Vicente Sarrablo se reúne con el prestigioso ingeniero Eladio Dieste en Uruguay
During the conversations they had, Dieste shared with Sarrablo his ideas about reinforced ceramic sheets that he developed during 1950's. After these meetings, Sarrablo conceived a new concept to industrialize this system.