FLEXBRICK
Concept
THE "GIRASOL" HOMES BY ARCHITECT JOSÉ ANTONIO CODERCH, REFURBISHED WITH THE NEW FLEXBRICK® SIDING
FLEXBRICK
Concept
KINDERGARTEN VIROLAI PETIT
CERAMICS MOVES ON TO NEW FORMATS AND APPLICATIONS
THAT LEAD THE PIECE BY PIECE LAYING
WHAT IS A FLEXBRICK
CERAMIC TISSUE ?
This presentation introduces a new technological concept: ceramic textile, an industrialized system which takes on the shape of flexible sheets of baked clay for tiling, cladding and laminated structures with a ceramic finish. 
These ceramic textiles open up an endless range of possibilities for dry-assembly cladding systems in architecture. They can "dress" facades, roofs, squares, … and explore new relations with textile architecture.
Constructions in which this new ceramic textile has been used, such as drainable pavements, roof gardens, ceilings and suspended light-permeable façades, demonstrate the remarkable architectural opportunities of ceramic materials when they are conceived in industrialized systems.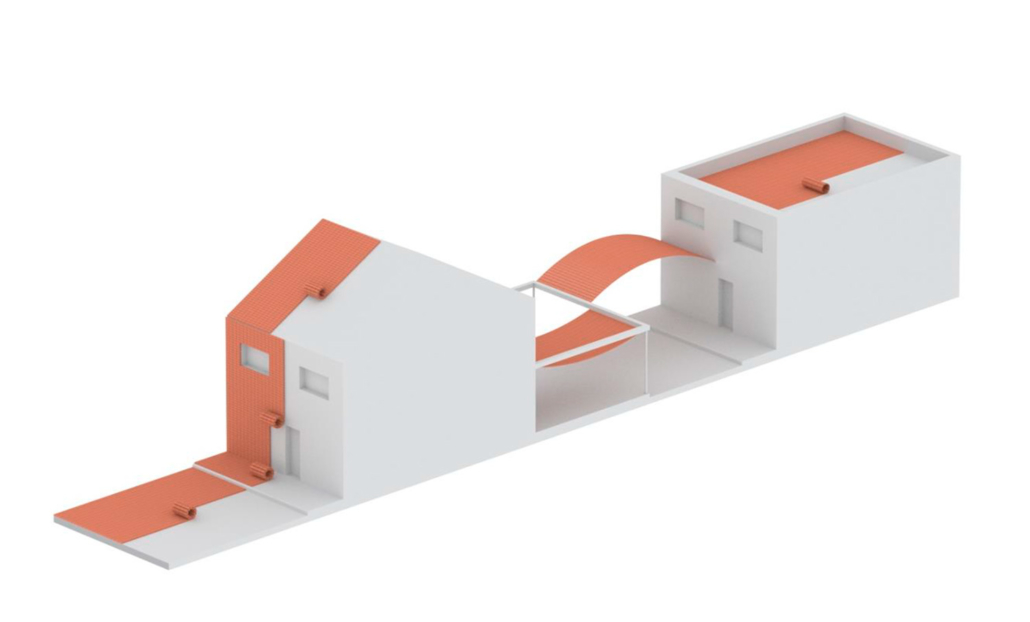 SUSTAINABLE. Ceramic of Flexbrick tissues is baked with Biogas. In addition, it is easily recyclable due to its simple element separation, which are dry joined.
LARGE DIMENSION FORMATS (up to 20 ml). Lower labor costs.
OPTIMAL EXECUTION PERFORMANCE. Laying by means of a crane accelerates the constructive process significantly with the finish already incorporated in a single operation.
FLEXIBILITY. Flexbrick sheets can be stored and transported folded in pallets or rolled on a coil.
MULTIPURPOSE. By modifying less than 10% of the mesh components, a same Flexbrick may be applied in pavements, façades and roofing facilitating the continuous enclosure.
VARIABILITY. A prefabricated system which allows numerous tissue configurations and color ranges.
DESIGN. With Flexbrick, decorations can be created by combining different configurations, project continuous enclosures, build any curvature and obtain precise alignments remarkably quickly and saving costs.
EXTEND THE TRADITIONAL USE OF CERAMIC PRODUCTS to new potential markets in architecture and civil works.
EASY MAINTENANCE, repair, and recycling. As it is a dry and roll system, it enables to "collect" the Flexbrick for making maintenance works easier in its batter or for replacement or recycling.
ASSISTANCE AND TECHNICAL SUPPORT. Flexbrick can provide its customers with a construction manager for supervising the execution of each project, with the objective to optimize performance and advantages.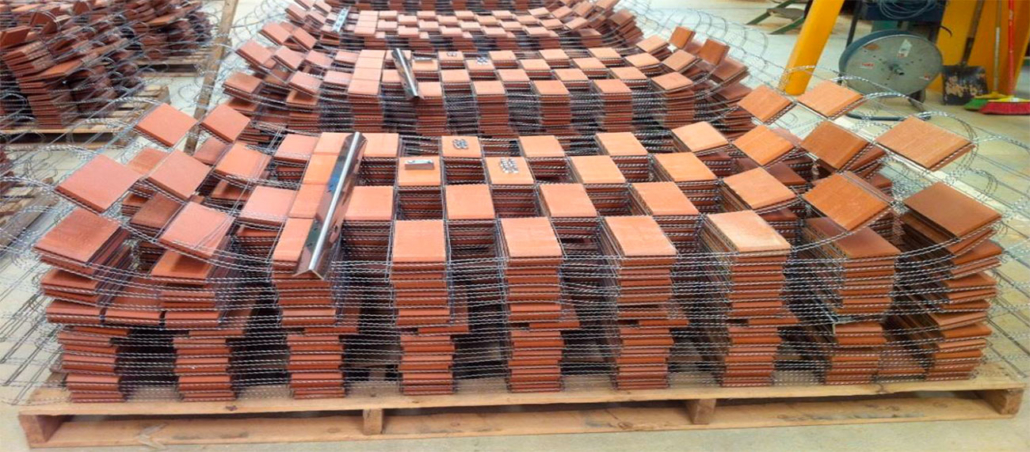 Flexbrick is a new way of using an age-old material. The revolution of ceramic surfaces improving on traditional manual installation techniques.
Ceramic textile is an innovative industrialized system based on an interwoven steel wire mesh, which is enclosed in a mosaic of ceramic clay tiles stacked in horizontal and vertical bands. Its main advantage is that it provides us with an ancient material in a new format that improves on traditional manual piece-by-piece installation. 
Being highly flexible, the textile can be folded onto pallets for storage and transportation, taking up little space and easy to move. The long strips make its installation easy, quick and economical to reduce emissions.
The construction time is reduced
No ordinary profiles are required
Its main contribution lies in the fact that it is faster to coat any surface. It is a large format fabric that consists of small elements (bricks, cobbles, tiles), which are traditionally installed one by one and are now presented on large canvases, able to cover both floors and walls. The building performance is optimized on large surfaces, as cranes handle the long strips.
In the case of façades, the great advantage, from a financial point of view, is that they require no ordinary profiles to be secured and regulated, as they are vertically aligned by their own weight, thus saving the cost of accessory materials, and, if the strips are long, significantly reducing the time it takes to install them.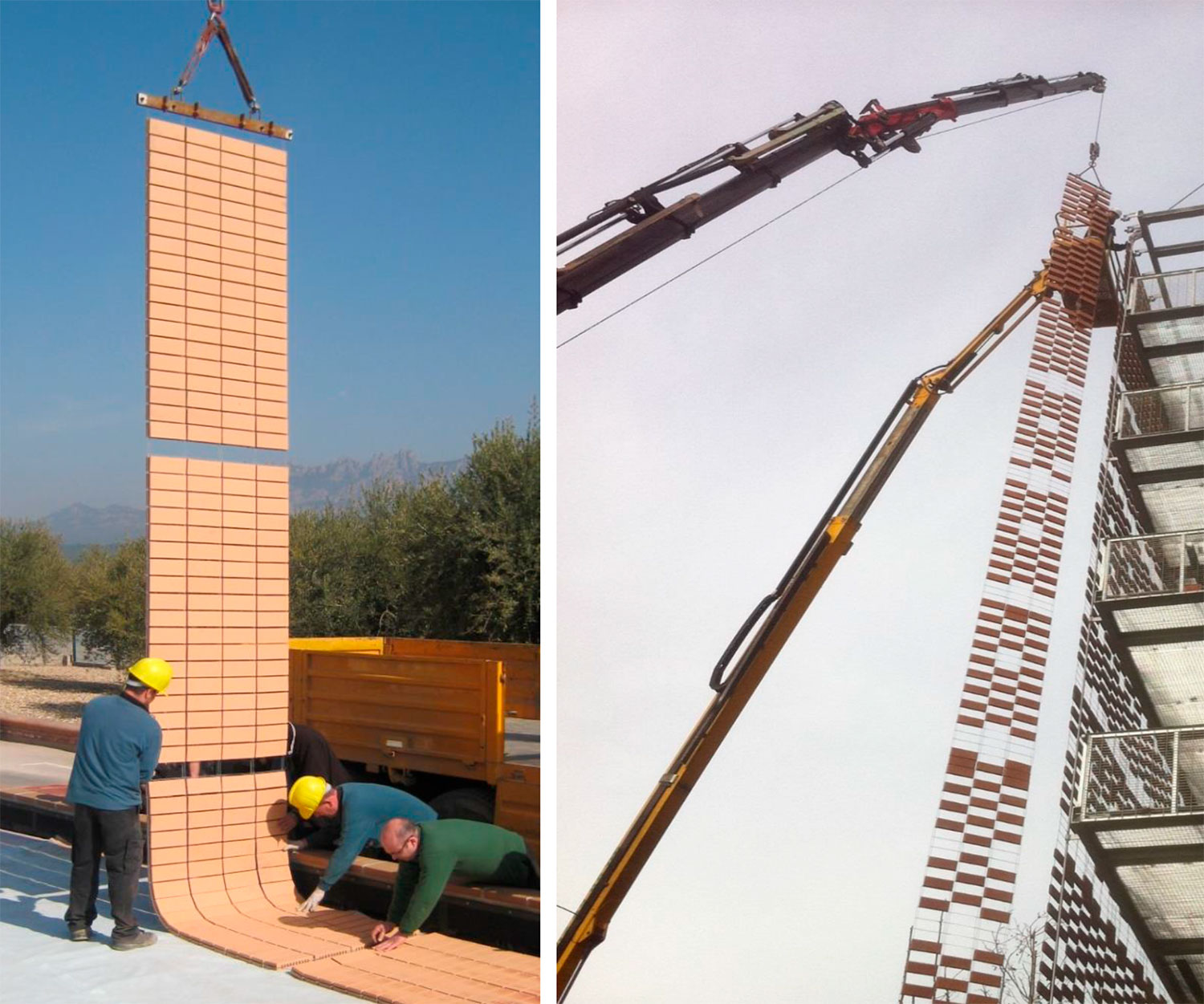 accuracy large-scale formats
A large format of small elements
Installing a ceramic fabric façade is similar to hanging a curtain: it merely requires stainless steel rails to be attached to the ceramic fabric to sustain it. They are bolted onto support brackets, which have previously been anchored to the facing slabs.
It is possible to design and construct by using large-scale formats of up to 20 meters, which saves a considerable amount of time and effort.
Flexbrick offers a high degree of accuracy. Thanks to the use of a metal mesh, the elements remain perfectly in line for any length. This is remarkable, especially in suspended light-permeable facades or sunscreens.
Light-permeable façades;
ceramics manufactured using biogas
This light-permeable façade or lattice acts as a natural sunscreen and reduces solar radiation. It allows tempered interspaces on buildings. 
In addition, Flexbrick can easily be recycled because it only consists of two dry-woven materials, the steel mesh and the ceramic elements, which are easy to separate in order to recycle. 
The ceramics used in Flexbrick are manufactured using biogas extracted from landfill. This is a unique process in Europe. A reduction of energy consumption of 5,000,000 Nm3 per year in fossil fuels is attained and it significantly reduces carbon dioxide and other greenhouse gas emissions (approximately 16,700 tonnes/ year of CO2).
Do you need more information for your project?
If you need more information about Flexbrick applications, do not hesitate to contact us